Love is Historically, Institutionally, and Societally Constructed: Using Intersectionality to Examine Racial Issues of Power and Privilege in Queer Relationships
Sarah Tahir

Temple University
Abstract
How does interracial attraction expose power dynamics within both heterosexual and queer relationships in accordance with historical and institutional infringements on civil rights? With my research paper, I aim to unpack the power dynamics, present and historically constructed, within white-person of color relationships, as well as the desires for whiteness, cisheteronormativity, and assimilation inherent in them due to hegemonic, normative systems of superiority and dependency. I will use American court cases to demonstrate institutional infringements on queerness as well as scholarly articles which support my point that whiteness infiltrates every aspect of life including relationships and the dynamics which form them, with a specific focus on visibility.

References
"Barack Obama's Feb. 5 Speech." The New York Times, The New York Times, 4 Feb. 2008, www.nytimes.com/2008/02/05/us/politics/05text-obama.html.
Bérubé, Allan. "How Gay Stays White and what Kind of White it Stays." In My Desire for History, 202-230: University of North Carolina Press, 2011. doi:10.5149/9780807877982_berube.15. http://www.jstor.org.libproxy.temple.edu/stable/10.5149/9780807877982_berube.15.
Cianciotto, Jason and Sean Cahill. "The Need for Research on Understudied LGBT Populations." In LGBT Youth in America's Schools, 155-172: University of Michigan Press, 2012. http://www.jstor.org.libproxy.temple.edu/stable/10.3998/mpub.4656286.12.
Clendinen, Dudley and Adam Nagourney. Out for Good: The Struggle to Build a Gay Rights Movement in America. New York: Simon & Schuster, 2016.
Frantz, Fanon. Black Skin, White Masks. Translated by Markmann, Charles Lam. London: Pluto Press, 1986.
Gomez, Jewelle and Barbara Smith. "Talking about it: Homophobia in the Black Community." Feminist Review no. 34 (1990): 47-55. doi:10.2307/1395304. http://www.jstor.org.libproxy.temple.edu/stable/1395304.
"History of the Anti-Gay Movement Since 1977." Southern Poverty Law Center. Accessed December 02, 2017. https://www.splcenter.org/fighting-hate/intelligence-report/2005/history-anti-gay-movement-1977.
Hockaday, Darius. "The Experience of Being an Interracial Child." Interview by author. November 2, 2017.
Keating, Christine (Cricket). "Conclusion: on the Interplay of State Homophobia and Homoprotectionism." In Global Homophobia, 246-254: University of Illinois Press, 2013. http://www.jstor.org.libproxy.temple.edu/stable/10.5406/j.ctt3fh5hk.14.
Kessler, Kelly. "They should Suffer Like the Rest of Us: Queer Equality in Narrative Mediocrity." Cinema Journal 50, no. 2 (2011): 139-144. http://www.jstor.org.libproxy.temple.edu/stable/41240700.
Kidd, Dustin. "Leave Brittany Alone: Sexuality Perspectives on Social Media." Chap. 3, In Social Media Freaks: Digital Identity in the Network Society, 69-95, 2017.
"Not that there's Anything Wrong with that: Sexuality Perspectives." Chap. 5, In Pop Culture Freaks: Identity, Mass Media, and Society, 129-163, 2014.
"LGBT Rights Milestones Fast Facts." CNN. November 09, 2017. Accessed November 29, 2017. http://www.cnn.com/2015/06/19/us/lgbt-rights-milestones-fast-facts/index.html.
Nash, Jennifer C. "Practicing Love: Black Feminism, Love-Politics, and Post-Intersectionality." Meridians 11, no. 2 (2011): 1-24. doi:10.2979/meridians.11.2.1. http://www.jstor.org.libproxy.temple.edu/stable/10.2979/meridians.11.2.1.
Novkov, Julie. "The Miscegenation/Same-Sex Marriage Analogy: What can we Learn from Legal History?" Law & Social Inquiry 33, no. 2 (2008): 345-386. http://www.jstor.org.libproxy.temple.edu/stable/20108764.
Rivers, Daniel. ""In the Best Interests of the Child:" Lesbian and Gay Parenting Custody Cases, 1967-1985." Journal of Social History 43, no. 4 (2010): 917-943. http://www.jstor.org.libproxy.temple.edu/stable/40802011.
Schwan, Anne. "Postfeminism Meets the Women in Prison Genre: Privilege and Spectatorship in Orange Is the New Black." Television & New Media, vol. 17, no. 6, 11 May 2016, SAGE Journals Online, doi:10.1177/1527476416647497, pp. 473-490.
Steinbugler, Amy C. Beyond Loving: Intimate Racework in Lesbian, Gay, and Straight Interracial Relationships. New York City: Oxford University, 2012.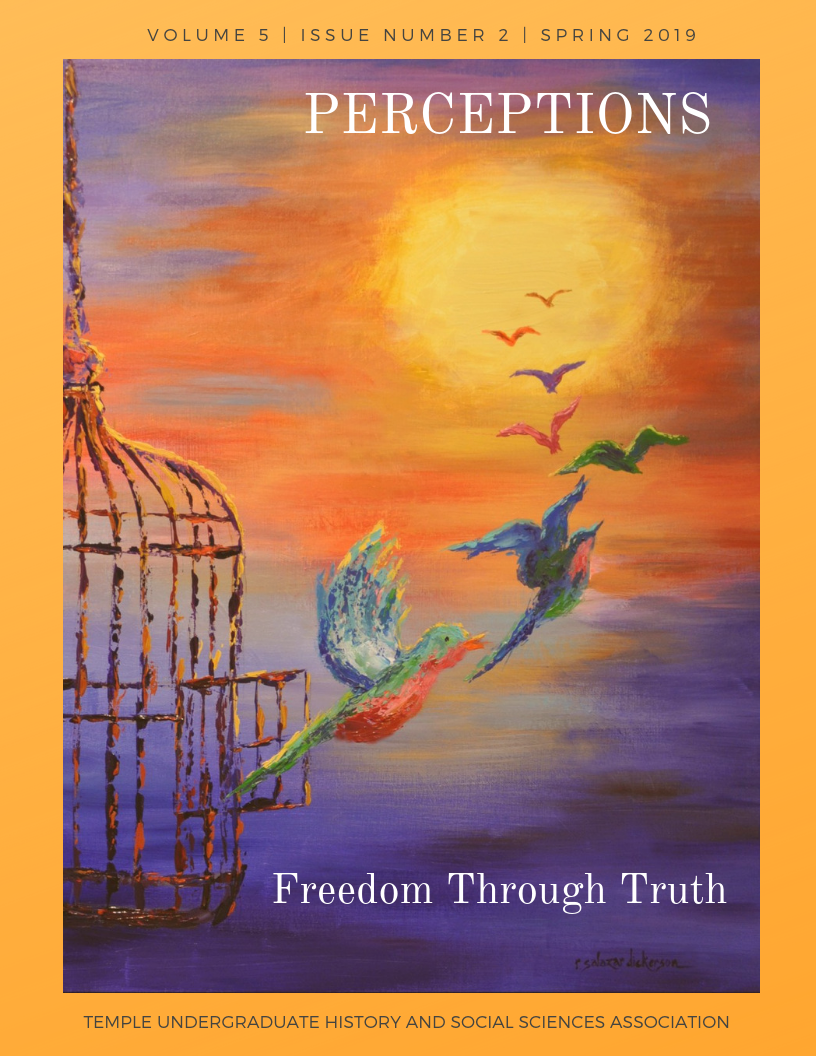 How to Cite
Tahir, S. (2019). Love is Historically, Institutionally, and Societally Constructed: Using Intersectionality to Examine Racial Issues of Power and Privilege in Queer Relationships. Perceptions, 5(2). https://doi.org/10.15367/pj.v5i2.206
All works are the property of their respective authors, but by submitting a paper to Perceptions, the Temple Undergraduate History and Social Sciences Association has permission to publish and make available the work in question.